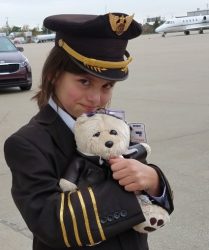 UPS flight instructor and pilot Dave Smith and Taylor Peeff, 10. Peeff spent the day at UPS learning about what it means to be a UPS pilot. UPS made her a custom pilot's uniform for the event. | Photo by Lisa Hornung
A 10-year-old girl got to fly a plane for the first time last week, thanks to UPS's Wishes Delivered campaign, and she's certain that this was her first flight of many.
Taylor Peeff is going to be a UPS pilot: She knows this, and you should, too.
Dave Smith, a UPS pilot trainer, taught her how to fly, and her mother, Cindi Peeff, sat in the back.
Dressed in her custom-made UPS pilot's uniform, Taylor raved about how much she loved her experience. "I loved it, I loved every part of it it was fantastic!" she said.