The Mailbox can help you solve your "what is my best option for shipping" dilemma!
You will have noticed that the shipping industry has experience a shift in consumer practices in the past few years. Carriers have had to modify how it ships and the rates they charge in response to online sales and direct to home shipping.
What you may not realize, is how we as consumers choose to use our shipping options affects us all in the pocket book sooner or later. The mailbox Ballard is here to help you navigate these often confusing regulations and practices to your best advantage every day.
Here is what you need to know.
Dimensional weight pricing is a common industry practice that sets the transportation price based on package volume — the amount of space a package occupies in relation to its actual w By using programs free shipping programs, consumers simply order online and have the parcels shipped directly to their homes.
The difference in price varies according to the speed of delivery a customer chooses and the distance of shipment.
Optimizing package sizing will reduce excess packaging materials and overall package sizes, leading to related reductions in fuel use, vehicle emissions and transportation costs.
Here is how that affects you.
USPS will raise rates in Sept. 2014 and
UPS and FedEx in Jan. 2015
The United States Postal Service filed notice with the Postal Regulatory Commission (PRC) to change Priority Mail prices. The price change will include a modest increase for Priority Mail prices at Post Offices and other postal retail outlets. The proposed changes are intended to offer more competitive pricing. Unlike others in the shipping industry, the Postal Service is not implementing any new dimensional-weight charges.
The pricing adjustments are part of a broader strategy to position the Postal Service for the future. USPS is also streamlining its mail processing operations, which will allow the organization to invest in new package sorting equipment and other upgrades, as it continues to seek legislative changes to update its business model. The Postal Service receives no tax dollars for operating expenses and relies on the sale of postage, products and services to fund its operations.
Like UPS, FedEx have used size-based pricing for express shipments and certain large packages.
The switch to dimensional-weight pricing comes in response to rising fuel costs and the increasing popularity of online shopping. With retailers like often putting small items in large boxes, lightweight packages can take up a lot of space on delivery trucks but are priced at lower rates.
UPS explained that recent shipping trends have resulted in declining package density, saying shipments are getting larger compared to the package weight. UPS hopes its rate changes will convince customers to match box sizes to the items inside.
This dimensional weight rate change will align the FedEx Ground dimensional weight pricing with FedEx Express by applying it to all packages. Bulky-but-light packages take up more than their fair share of truck space –  FedEx would prefer to fill with extra packages that it can charge for that space.
FedEx and UPS have announced they will apply dimensional-weight pricing to all shipments starting Jan 1, 2015
Here is what The Mailbox Ballard can do for you.
We effectively pack and protect the items you are shipping so they arrive as intended.
We assist you with add on service options like delivery confirmation, package tracking, signature on delivery and package insurance.
Here at the Mailbox Ballard you have the option to ship your packages via UPS, Fedex, DHL and the United States Postal Service.
The Mailbox Ballard can quickly and effectively help you navigate the best shipping and carrier choice for you. We elegantly assist you in deciphering which, how and why your priorities are important to deftly find a solution and/or alternative to solving all of your shipping needs. In effect helping you decide is the cost, time and/or item value that matters most for each package you are shipping.
Get in here, we can help! Cheers and happy shipping from the Mailbox Ballard.
We would like to officially introduce our newest employee at the Mailbox Ballard. Nick Jones.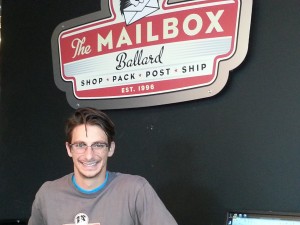 Nick is currently going to school at Western Governors University. He has a degree in Marine Transportation from the New York Maritime College and is interested in pursuing a degree in Marine Technology. His main passions are rock climbing, fly fishing, sailing and occasionally he puts pen to paper. Always happy to chat, if you know of a great place to hike or a exciting new band, Nick would love to hear all about it!
In addition to now offering exceptional customer service here at the Mailbox, Nick also works at the Community boating center offering sailing lessons at Sail Sand Point for the past 5yrs.
Nick really enjoys meeting and getting to know the variety of locals that frequent the Mailbox Ballard. He loves recognizing faces when out and about in Ballard, listening to what interests you, hearing a good story, and is always up for some good advice.
Fast on his feet, Nick has honed his shipping and customer service skills to a fine art.  He will be able to assist you in even the most complex of shipping needs.  Test him out. Get yourself down to The Mailbox Ballard and introduce yourself to Nick, share your story, and find out how he can assist you with your shipping needs today!