We would like to officially introduce our newest employee at the Mailbox Ballard. Nick Jones.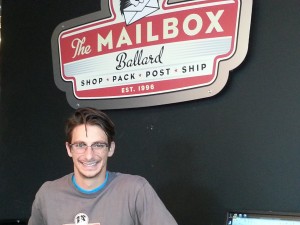 Nick is currently going to school at Western Governors University. He has a degree in Marine Transportation from the New York Maritime College and is interested in pursuing a degree in Marine Technology. His main passions are rock climbing, fly fishing, sailing and occasionally he puts pen to paper. Always happy to chat, if you know of a great place to hike or a exciting new band, Nick would love to hear all about it!
In addition to now offering exceptional customer service here at the Mailbox, Nick also works at the Community boating center offering sailing lessons at Sail Sand Point for the past 5yrs.
Nick really enjoys meeting and getting to know the variety of locals that frequent the Mailbox Ballard. He loves recognizing faces when out and about in Ballard, listening to what interests you, hearing a good story, and is always up for some good advice.
Fast on his feet, Nick has honed his shipping and customer service skills to a fine art.  He will be able to assist you in even the most complex of shipping needs.  Test him out. Get yourself down to The Mailbox Ballard and introduce yourself to Nick, share your story, and find out how he can assist you with your shipping needs today!